Shackleford Horses
The Wild Horses of The Crystal Coast
Imagine a beach wonderland where more than 100 wild horses nibble on seagrass and gallop through the sands. A place where a 150-year-old lighthouse stands, illuminating the shoreline. Cape Lookout National Seashore is a unique blend of history and nature with its wild herds living peacefully along beaches that have seen their share of fishermen, whalers and other visitors. This secluded area offers overnight stays including cabin rentals and tent camping, as well as day visits via official ferry service.
The wild horses that call the Crystal Coast home roam freely on their respective barrier islands and have long been of interest to the scientific community, wildlife organizations, visitors and locals. Both Shackleford Banks and the Rachel Carson Reserve are home to wild horses, but there are a few differences between the herds.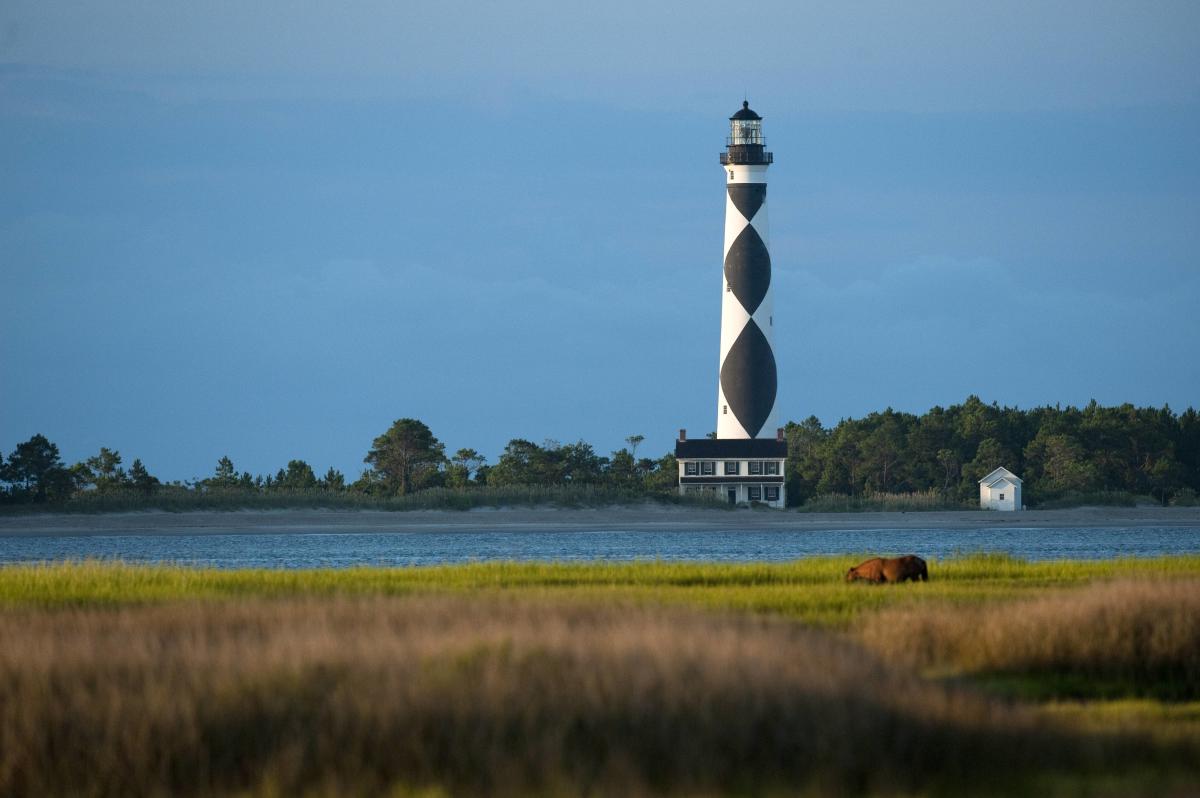 Shackleford Banks
Shackleford Banks is a barrier island located southeast off of Beaufort and Atlantic Beach, North Carolina. It is a protected area within Cape Lookout National Seashore and accessible only by private boat or official ferry service.
This wild herd descended from horses that migrated or were abandoned through a combination of events in the mid-19th Century.
Iberian (Spanish) horses first appeared off North America when Columbus brought them to the island of Hispaniola in the 1400s. Used for exploration, the horses became indispensable in the New World.
In the 1500s, Lucas Vasques de Ayllon attempted to settle the Atlantic East Coast – including present day North Carolina and Virginia. When the colony failed, the remaining settlers returned home, but there was no attempt to recover the 89-100 horses left behind.
It is also believed that Sir Richard Grenville released Spanish horses in the 1580s near Portsmouth Island when his ship, Tiger, had to be careened for repairs. While their exact arrival is woven into history, extensive research and genetic testing indicate that these wild horses are of certainly of Spanish origin and have been discussed in local folklore for centuries.
This herd of more than 110 wild horses is now protected by The Foundation for Shackleford Horses, Inc. The foundation conducts health and behavioral studies, genetic testing, maintains a horse registry, monitors the Shackleford Banks ecosystem, administers birth control, and educates local residents and visitors about the herd. Still, the horses are wild animals and are not fed, watered or housed with human interference.
For more information about the wild horses of Shackleford Banks, visit www.shacklefordhorses.org. Plus, view the horses on a guided tour with the National Park Service or our other ecotour partners.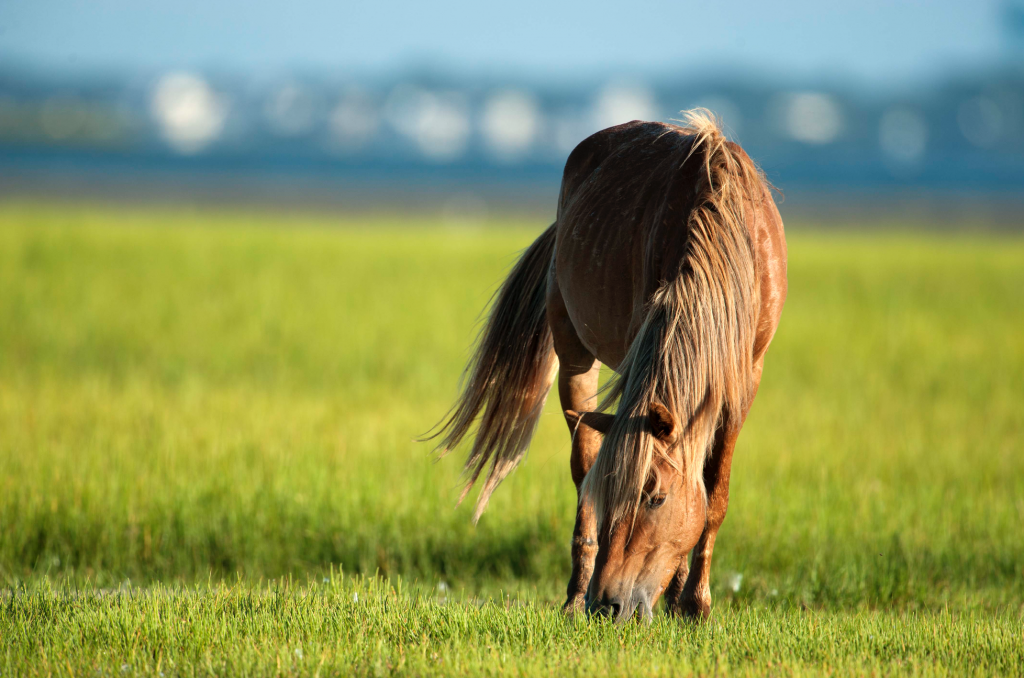 Rachel Carson Reserve
Rachel Carson Reserve is a complex of small islands located between the mouths of the Newport and North Rivers and directly across Taylor's Creek in Beaufort, North Carolina. The reserve can be reached only by private boat or passenger ferry.
The feral horses at Rachel Carson Reserve were introduced to the site by a local physician in the 1940s. The horses were allowed to roam the entire site and eventually became feral. In this case, feral simply indicates that the horses were once domestic and became wild once more. Now, Rachel Carson Reserve is home to a herd of less than 35 feral horses, managed by the State of North Carolina and the N.C. Coastal Reserve.
On-site studies found that feral horses can have a significant negative impact on island vegetation. So, to preserve the natural environment and protect herd health from the detriments of overpopulation, select female horses receive a birth control vaccine annually.
The horses can be viewed by boat, on a self-guided hike in the Reserve, or with one of our local ecotour companies.
For more information about the feral horses of Rachel Carson Reserve, visit http://www.nccoastalreserve.net/web/crp/rachel-carson. 
Wild and Feral Horse Viewing
No matter which group of horses you are watching, be sure to keep at least 50 feet between yourself and the horses (this is approximately the length of a traditional school bus). The Foundation for Shackleford Horses suggests using a camera with at least 200x zoom for easy photography without getting too close. Binoculars are also recommended.