Kayaking & Paddleboarding
Are you ready to paddle The Coast?
Immerse yourself in The Crystal Coast's beautiful, natural landscape. The numerous water trails along The Coast cater to paddlers of all experience levels. Whether you're looking for a relaxing afternoon of standup paddleboarding or a fast-paced kayaking adventure, paddle trails at The Coast won't disappoint.
Check out beginner, intermediate and advanced paddle trails along The Coast.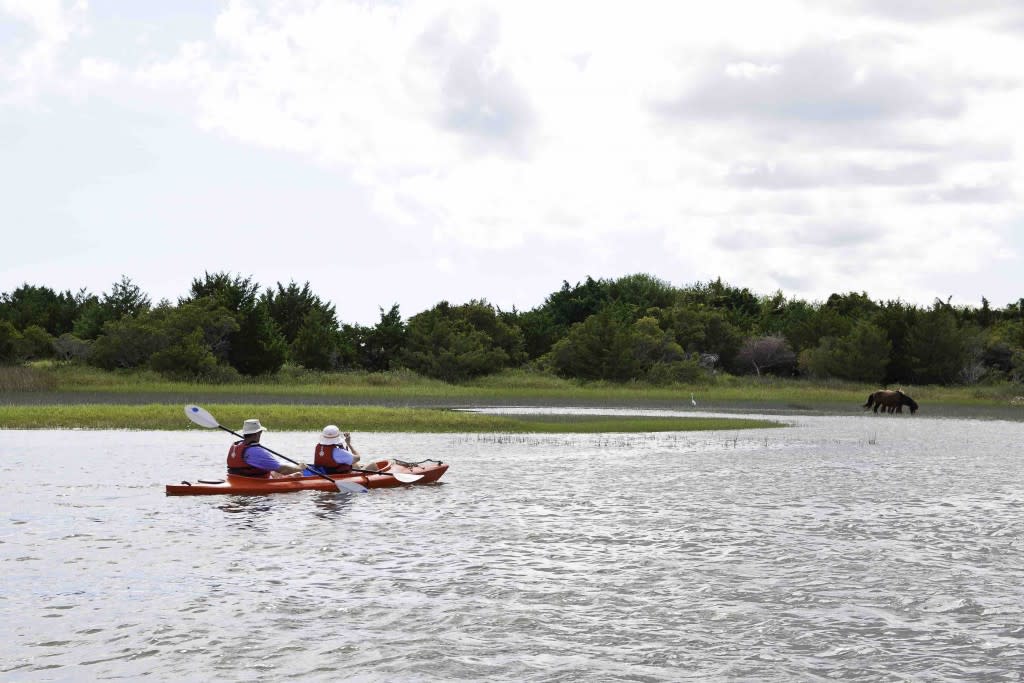 Beginner Paddle Trails
Beginner paddle trails offer paddlers some protection from the elements, while featuring wildlife and scenic views. Beginners will be happy with this set of paddle trails that offer protected water and shorter trips, while novice paddlers can gain more experience on open water and with wind.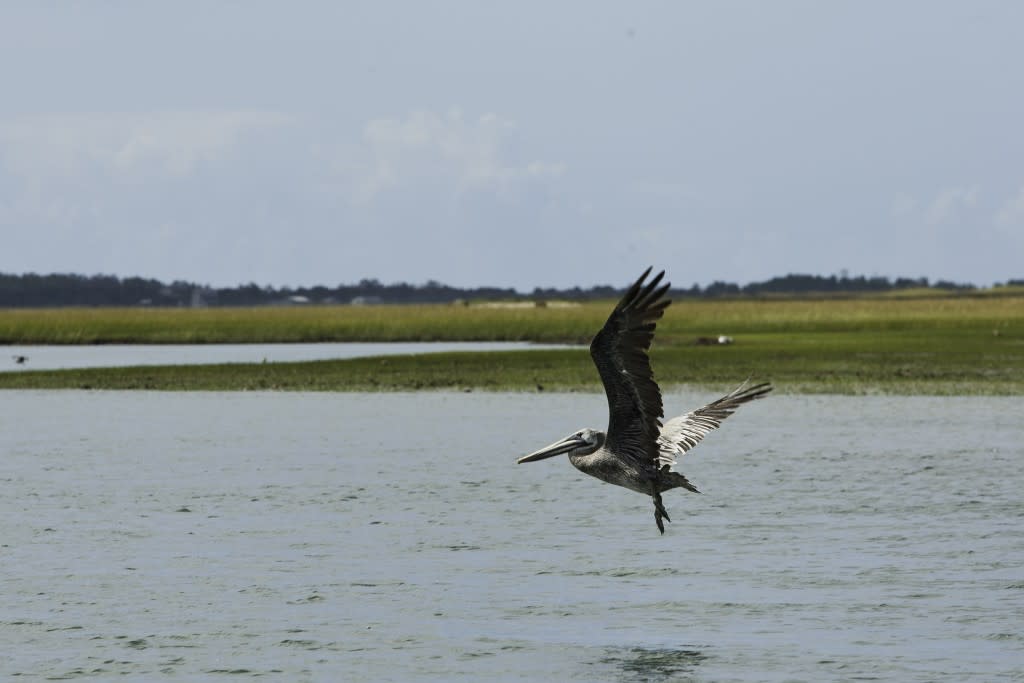 Whitehurst Creek Paddle – 2.3 miles
This journey is a birder's paradise. Beginning at Straits Boat Landing, this paddle trail will take you along the shoreline of Whitehurst Creek. You can anticipate sea gulls, pelicans, herons, egrets, shorebirds, osprey, oystercatchers, terns, and cormorants, as well as a variety of geese and ducks in the during the winter months.
North River Estuary Paddle – 4.0 miles
Launch at Straits Landing Boat Ramp and head towards Goose Bay to being this quiet trip. As you float down this waterway, feel free to explore the marshes along the west side, that have been known to contain pieces of prehistoric pottery. These marshes are also notable for their height, which adds the illusion of becoming part of the estuary.
Nelson Bay Paddle – 5.2 miles
Experience the relaxing stillness and natural beauty of Nelson Bay. Beginning at Salters Creek Ramp, paddlers can travel along the calm shoreline to view local wildlife and get an up close encounter with nature.
Rachel Carson Reserve Paddle – 8.4 miles
Located along the Beaufort Waterfront, the Rachel Carson Reserve Paddle is only a short paddle across Taylor's Creek, here paddlers can rest and return or complete the loop around the reserve before completing the 8.4 mile paddle. The Rachel Carson Reserve is unique due to its strong influence of river and inlet dynamics making it home to various species of birds, and a relaxing place for paddlers. There is also a herd of feral horses that inhabits the area.
Intermediate Paddle Trails
Moderate paddle skills are needed to complete these intermediate paddle trails, which include open water, wind and currents and farther distances. Paddlers in good physical condition and some paddling skills in winds, tides and currents will be pleased with these medium level options.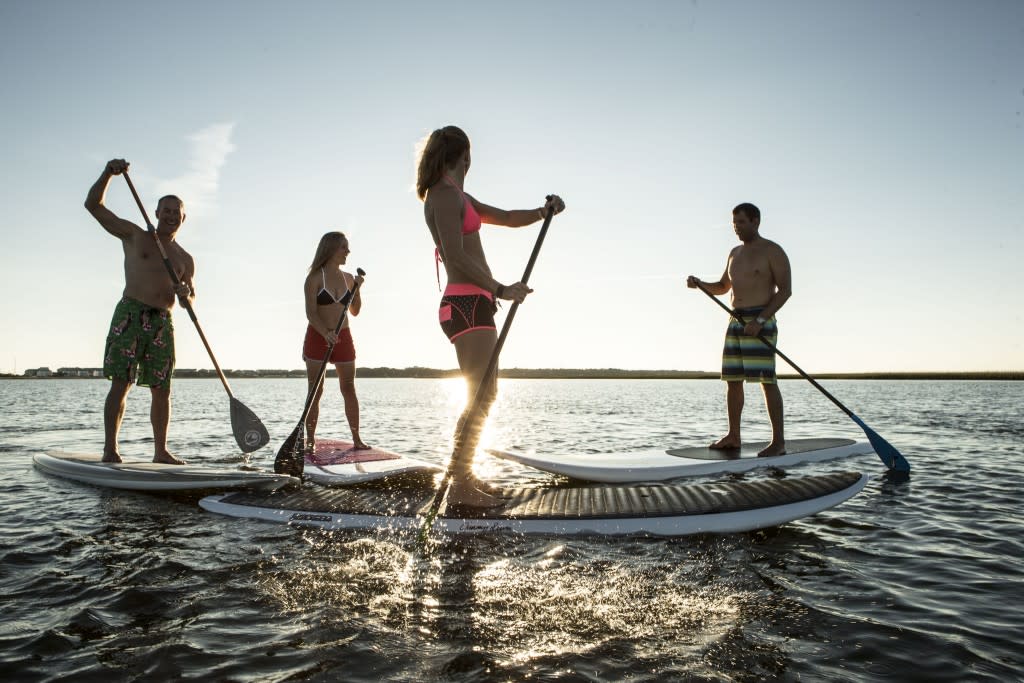 Thorofare and Styron Bay Paddle – 9.4 miles
If you wish to explore the nature of The Coast in solitude, this paddle trail is ideal. One of The Crystal Coast's most scenic paddle trails begins at Monroe Gaskill Bridge and ends at the Driftwood Campground. As you wind along the waters of the Thorofare area your sights will be overcome with the abundant wildlife and stunning variety of plant life.
Davis to Sea Level – 9 miles
Begin this journey by paddling north of the access point at Horseshoe Road, heading towards Salters Lump Island. This sandy bay provides opportunities for seashell collection and exploration. The next leg of the route takes you up the coast to Fluchers and Willis Creek, across the mouth of Nelson Bay, through Mill Point, and up Styron Creek. The end of the trail will deposit you at Steep Point, where views to the Atlantic Ocean will be visible as you pass numerous fish houses and the ferry to Portsmouth Island.
Harkers Island Bridge to Smyrna – 8 miles
This route will take you past the beautiful homes along Whitehurst and Sleepy Creeks, down Great Marsh Creek, and past Bells Island. Belles Island features several sandy areas ideal for a quick lunch break with calming views. From there you will head down to Tusk Creek, where you can view oyster shells in their natural habitat at low tide. As Tusk Creek drops you off at Middens Point, located in Middens Creek, you'll prepare for a 1/2-mile paddle across open waters to Davis Island.
Cedar Island Bay Paddle- 7.9 miles
To start this calm and serene adventure, your launch for Cedar Island Bay Paddle can be at either Driftwood Campground or Lola Boat Ramp. Along the route you can expect to see various species of birds, sea life, marshland, and maritime forests along the small islands. You might also be surprised to view semi-feral cattle grazing along the shorelines.
North River Paddle Extended- 6.5 miles
This is the extended version of Goose Bay Paddle (above). North River Paddle Extended includes a return trip back to Straits Landing Boat Ramp or takes you to Wards Creek Bridge. Along this extended route you can view secret estuaries hidden to boats and vehicles.
Atlantic to Thorofare* – 6 miles
Beginning at the beach in Little Port Brook, this route will take you along Hall point, and will give you the opportunity to admire a beautiful maritime forest grove that leans away from the prevailing winds. From Hall point you will go across Barry Bay to Green Point, out to Thorofare Bay, and finish your ride at the Monroe Gaskill Memorial Bridge. *Note: This trail is designated as intermediate/advanced.
Whale Creek Paddle – 5.8 miles
This paddle trail will take you from Harkers Island Bridge, around Harkers Island point, to Shackleford Banks, across Back Sound, and into the middle of Shackleford. Upon reaching Shackleford the real magic beings. The site of a 19th century Whaling community, you may now set your sights on wild horses grazing salt grasses and shrubs. You may also camp on this Island, check park rules for details.
Goose Bay Paddle – 5.8 miles
Another great paddle for bird watching enthusiasts! This water trail is also a great choice for sea-life viewing, as well as artifact collectors. Beginning at Straits Landing Boat Ramp, you will travel through marsh that is home to several nests of birds and a somewhat protected bay that is a popular place for crab pots. On low tide, you may even be able to step on to the sandy bottom and explore the shoreline to see periwinkles, minnows, fiddler crabs, and prehistoric pottery shards.
Browns Island Paddle – 4.1 miles
Wild horses, cattle, and even eagles and call this uninhabited island home.The journey to view these wild animals in their natural habitat starts at the NPS Visitor Center at Shell Point on Harkers Island. Browns Island, and its feral inhabits, can be viewed as you round the Core Sound. Please be advised that due to wild hogs and biting insects that live in the woods in the island, paddlers should avoid exploring the island on foot.
Oyster Creek to Great Island Ferry Dock – 3.6 miles
Launching off the Oyster Creek Boat Ramp in Davis, this short water trail gives you plenty of opportunities to travel Core Sound and Core Banks, an uninhabited part of Cape Lookout National Seashore. On these banks you can explore the soundside shoreline, walk across to the Atlantic Ocean, or simply relax and take in the beautiful scenery.
Advanced Paddle Trails
Excellent paddling experience and physical condition are suggested to complete these paddle trails, which often feature open water, high and low tides, strong winds, and currents. Paddlers should be comfortable in strong winds and currents in open water as well as conditioned for greater distances.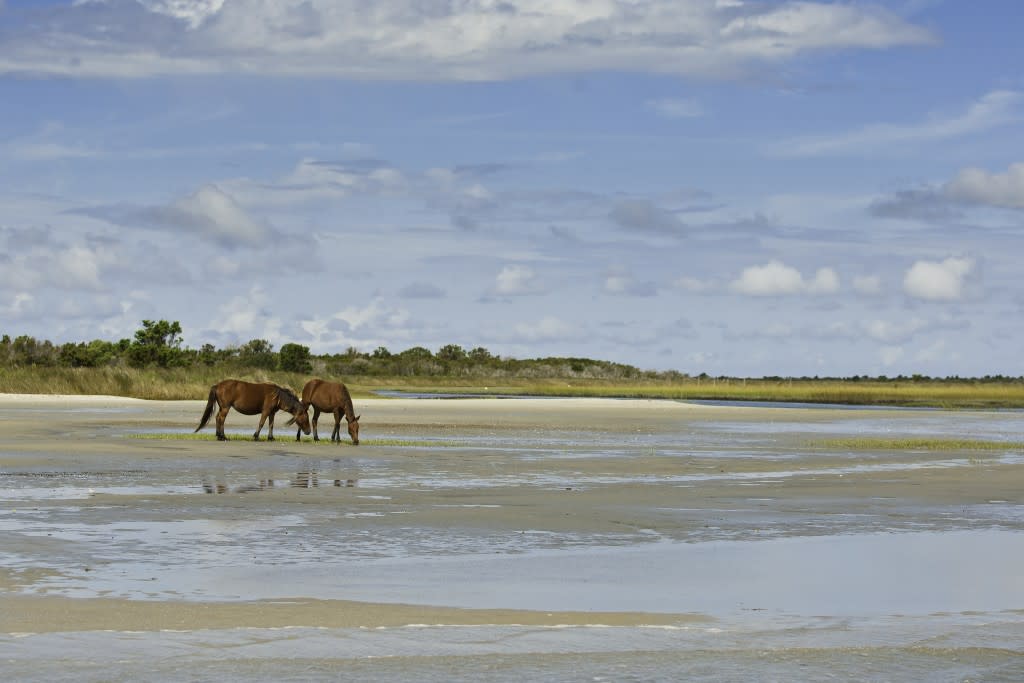 White Oak River Paddle Trail – 17.22 miles
With five trail landings, the White Oak River Paddle Trail can be broken up into four stints or you can just do one. The trail begins at White Oak Campground and culminates at Boondocks Landing, just inside Carteret County. The breakdown is as follows:
White Oak Campground to Dixon Field Landing – 4.73 miles
Dixon Field Landing to Haywood Landing – 5.75 miles
Haywood landing to Long Point Landing – 3.04 miles
Long Point Landing to Boondocks Landing – 4.83 miles
With deep, rapid or no water, to portages, stumps, downed trees and beaver dams, the White Oak River Paddle Trail is one of the most lively options along The Coast.
Core Banks Paddle – 13.7 miles
This lengthy paddle is for the experienced individual and will take you through Core Sound, northwards to along Core Banks, and to Drum Inlet. A popular destination, Old Drum Inlet Creek, is located on the soundside of Portsmouth Island.
Cedar Island National Refuge Paddle – 13 miles
The refuge, which contains 11,000 acres of marshland and almost 3,500 acres of pocosin and woodlands, was created to protect and provide a wintering habitat for migratory waterfowl. Paddling this outstanding trail begins a Monroe Gaskill Bridge and ends at the Memorial Bridge or at Lola Road Boat Ramp. A note paddlers-  the best time to view the waterfowl is during the winter months.
Thorofare to John Day Ditch – 11 miles
Spend your day on this beautiful 11 mile journey, starting at Monroe Gaskill Memorial Bridge and traveling through the waters of West Thorofare Bay, Merkle Point Bay, and Tump point. Along the way you will experience views from MCAS Cherry Point Bombing Range, Bear Hammock in the Cedar Island National Wildlife Refuge, and several sandy beaches. Conclude your adventure along the West Bay shoreline and John Day Ditch.
Lola Road to Cedar Island Ferry – 6 miles
This journey to Cedar Island Campgrounds begins at Lewis Creek by the Wildlife Refuge Office, and winds through Core Sound, Green Point, and Cedar Inlet. Throughout the trail you can expect to find beautiful maritime forests and sandy beaches, as well as many native and migratory bird species. Upon arrival at Cedar Island Campgrounds you may enjoy basic camping facilities, a restaurant, and small islands that offer opportunities for exploration and adventure.
Atlantic to Thorofare* – 6 miles
Beginning at the beach in Little Port Brook, this route will take you along Hall point, and will give you the opportunity to admire a beautiful maritime forest grove that leans away from the prevailing winds. From Hall point you will go across Barry Bay to Green Point, out to Thorofare Bay, and finish your ride at the Monroe Gaskill Memorial Bridge. *Note: This trail is designated as intermediate/advanced.
Cape Lookout Lighthouse Paddle – 4.9 miles
One of the most exciting and beautiful adventures on the Down East Trails, this route will allow you to view large numbers of pelicans, ibis, egrets, and other waterfowl. In the surrounding waters along this trail you may also see dolphins, stingrays, and sea turtles, as well as wild horses grazing on Shackleford banks.
Codds Creek Paddle – 4.8 miles
This trail will take you to a popular local site at Codds Creek. Start this route at the NPS Visitor Center at Shell Point and wind your way along Core Sound, continuing north to Core Banks, where you will come across a dock at Codds Creek that is an easy walk to the Atlantic Ocean.
Beaufort to Shackleford Banks Paddle – 2.7 miles
The paddle from Beaufort to Shackleford banks provides an opportunity to see wild horses on Rachel Carson Reserve and on Shackleford Banks (more on our wild horses here). The best place to launch is from the boat ramp on east end of Front Street in Beaufort. Head due east out of Taylor's Creek, paddle south along several marsh islands to Shackleford Banks. An easy walk from the western end of Shackleford Banks brings you to the Atlantic Ocean.
Ready for an adventure?
Ready to go off the map and explore your own trails? Check out Newport River and Bogue Sound where you can work with local paddle companies to create your own paddle experience.
No matter which paddle trail you choose (or make!), you're sure to have a one-of-a kind experience paddling The Coast. Find our paddle partners here.
(Sources: Crystal Coast Canoe & Kayak Club, North Carolina Center for Geographic Information and Analysis, White Oak River Paddle Trail, Cape Lookout National Seashore, Town of Beaufort, Friends of Cape Lookout National Seashore, Crossroads of Carteret County)