If you want relaxation, there's nowhere better than the Southern Outer Banks. The area is known for its pristine beaches, beautiful scenery, and laid-back atmosphere. But lately, a new activity has been gaining popularity on the Crystal Coast: pickleball!
The region has experienced a spike in interest, leading to pickleball courts popping up in Atlantic Beach, Emerald Isle, Beaufort, Morehead City, Pine Knoll Shores, Salter Path, Indian Beach, Newport, and Cape Carteret.
Pickleball is a cross between tennis, ping pong, and badminton played with two or four people. It's easy to learn and requires minimal equipment—a paddle, net, and plastic ball are all you need to get started. 
The game has become increasingly popular in recent years thanks to how accessible it is for people of all ages. A new report from the Association of Pickleball Professionals says that in 2022, 14% of Americans over the age of 18 played at least once.
That's a whopping 36.5 million pickleball players! 
Why Pickleball is Growing in the Crystal Coast
The casual pace and community atmosphere surrounding pickleball make it a perfect match for beach-goers, retirees, and families. 
The Crystal Coast is home to the best beaches in the state—and plenty of public courts that make it easy to get started. Plus, many local groups and organizations are dedicated to promoting the sport.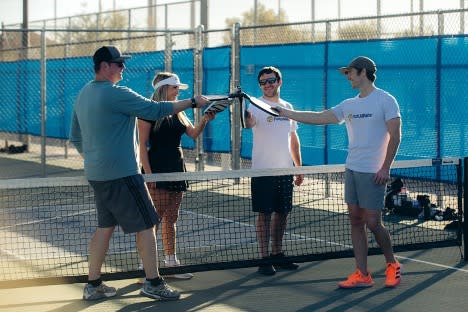 From beginner lessons to tournaments for all skill levels, locals and visitors can both find a pickleball spot that meets their needs. Whether you're looking for a casual game with friends or want to join an organized league, there's something for everyone on the Crystal Coast! 
Places to Play Pickleball in the Crystal Coast
There is a constant push forward from residents and business owners to open more pickleball courts, and there are now many places to play in the area. 
If you're looking for a place to enjoy the game, here are some spots you can visit: 
Popular Public Courts
1. Shevans Park, Morehead City
Waiting for your fishing charter, or just off the water? Check out Shevans Park in Morehead City. The park has two free pickleball courts, so you can practice your skills or play a casual game with friends. 
Are your kids practicing soccer, or do your pups have a playdate at the dog park?   Check out Rotary Park in Morehead City. The park has two free outdoor pickleball courts.
Are you one of the 60,000 participants preparing for the Senior Games? South River Park's pickleball courts offer a great opportunity to hone your skills – plus, you might just find some friendly competition waiting to join in on the fun.
4. Blue Heron Park, Emerald Isle
Had enough of the beach? Blue Heron Park is just a short walk from the coast, right next to the community center. With playgrounds and plenty of shade, it's an ideal destination for families. But the real highlight of the area is the two well-maintained pickleball courts that offer the perfect opportunity for a fun, active day.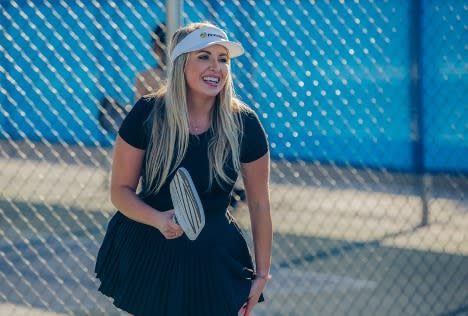 5. Fort Benjamin Recreation Center, Newport
Talk about activities! The Fort Benjamin Recreation Center has something for everyone: baseball diamonds, soccer fields, and even a disc golf course. Best of all, the lit pickleball courts let you play well into the night.
6. Western Park, Cape Carteret
Face your fears with a walk on the Sky Trail, and then take part in something a little more grounded by heading over to Western Park for some fierce pickleball action. Unlike other public facilities, these are dedicated courts with permanent pickleball-only nets and lines. 
Popular Private Courts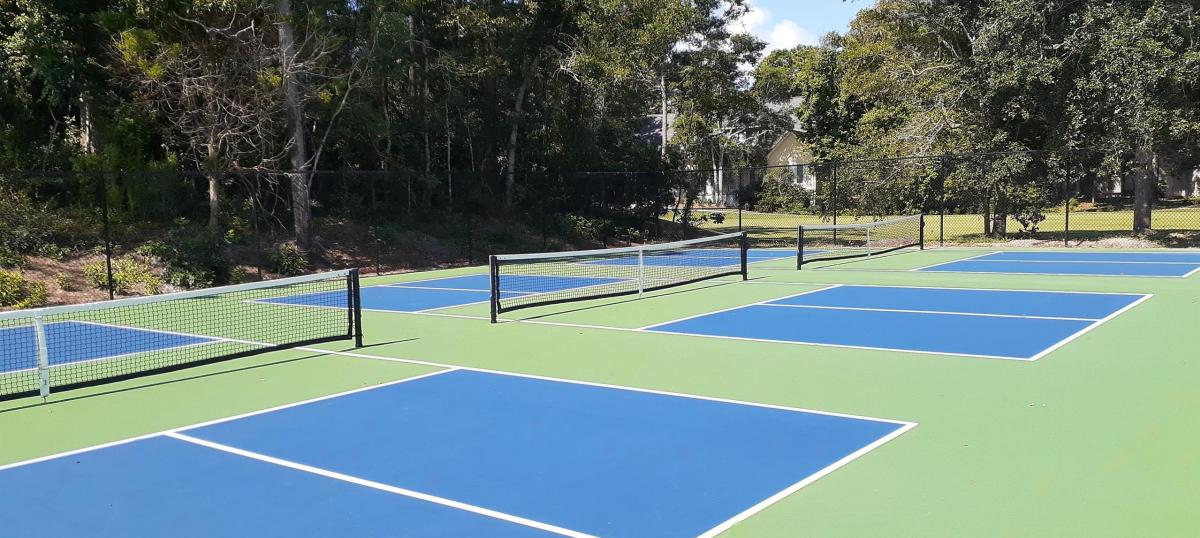 Source: Crystal Coast Country Club
At the Crystal Coast Country Club, you'll find four illuminated championship pickleball courts that offer a place to perfect your skills and get competitive. Here, there's an opportunity to sign up for private lessons with Chris Baile, one of the club's resident tennis pros, and attend regular tournaments for the chance to show off all you've learned. 
2. Morehead City Sports Center
A more affordable option may be the Morehead City Sports Center, which gives members unlimited access to the courts and non-members the ability to play for $8 a session. Want to test your skills? They even have a court specifically designated for challenging top players to a match. 
3. Morehead City Recreation Center
There's indoor pickleball available at the Morehead City Recreation Center, too, where they provide the necessary equipment to get started. It's a great way for beginners to try out the sport without much pressure.