Way down along the Outer Banks, North Carolina, the southern barrier islands stand apart in character and spirit, so much so that they go by a different name – the Crystal Coast – encompassing 18 miles of beach including the towns of Emerald Isle, Atlantic Beach, Cape Lookout, Beaufort, Pine Knoll Shores, Morehead City, Harkers Island, Salter Path and Indian Beach. Along those treasured shores, saltwater sportfishing opportunity abounds.
The sleepy beach town of Emerald Isle sits as a tiny gem on the Crystal Coast. I checked into a sublime, aquamarine-sided beachfront home on Emerald Isle, quaintly nicknamed Susie's Hideaway, tossing my bags on a plump couch and opened the sliding window doors to feel the rush of the Atlantic surf breeze tickle my face. A deep inhale, and I was already tying fishing rigs, set to explore the piscatorial treasures of the Crystal Coast.
Offshore Options
A warming sunrise peeked over the Atlantic. I was greeted dockside by NC Aquarium at Pine Knoll Shores activity director Wayne Justice, who promptly fashioned a Bojangles Chicken and Biscuit breakfast sandwich into my hand with a big down home smile as we stepped aboard Captain Stewart Merritt's Salt Air Ventures on the Beaufort Inlet.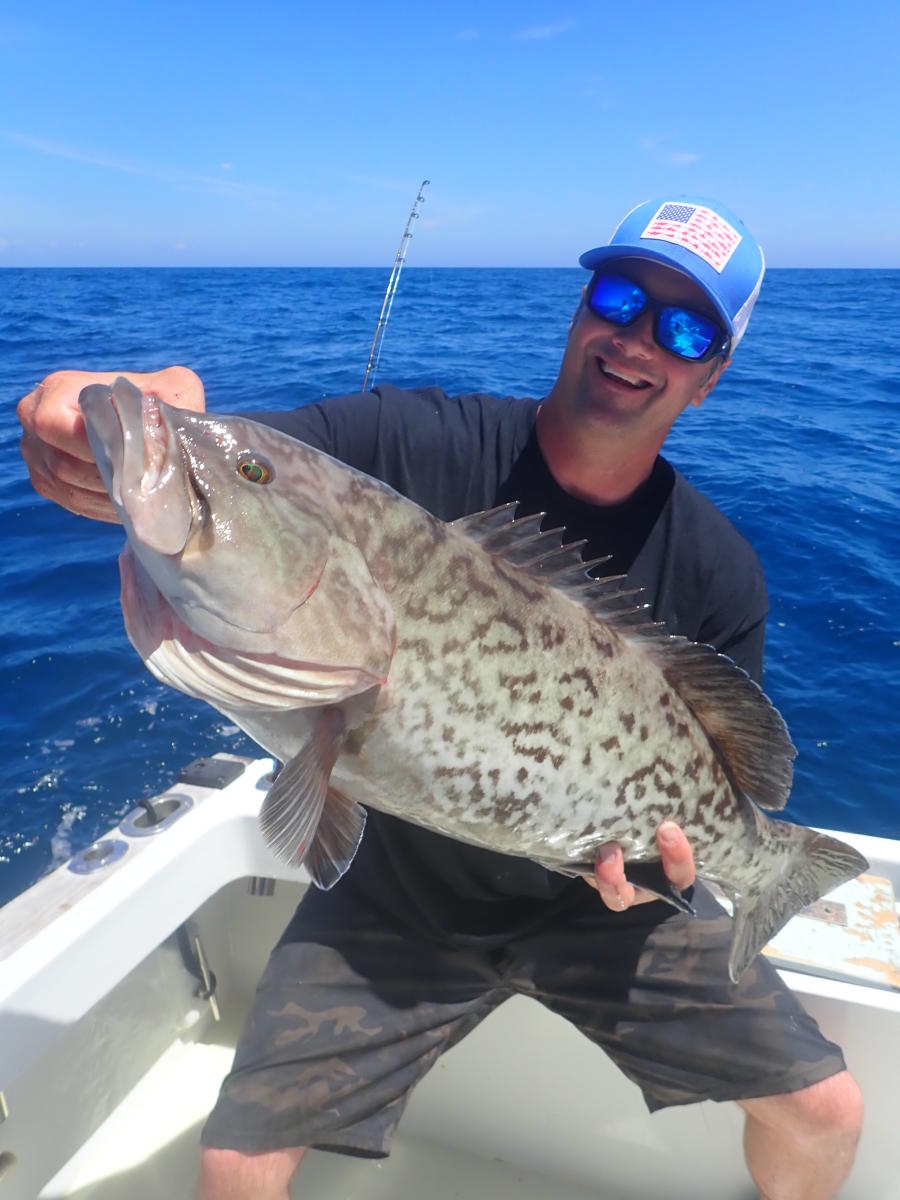 Bottomfishing for huge gag grouper among many other bottom species provides plenty of rod bending action and makes for some great table fare.
Passing by Shackleford Bank shoals, we were targeting bottomfish and set up about 14 miles offshore in 110 feet of water on some naturally occurring submarine rockpile ledges. Justice dropped a bait down and in a split instant, was first to score to reel in a beauty 15-pound gag grouper. Justice and I proceeded to battle three more gags up to 20 pounds in the mix along with a 40-pound amberjack and released a 200-pound southern stingray. The beauty of wreck and reef fishing is the eclectic variety of species available including grouper, snapper and jacks and that you don't necessarily need to charter a private boat, but can also jump on one of the many "head boats" that run daily trips from Morehead City and Atlantic Beach which can carry up to 70 people for a half or full day affair fishing.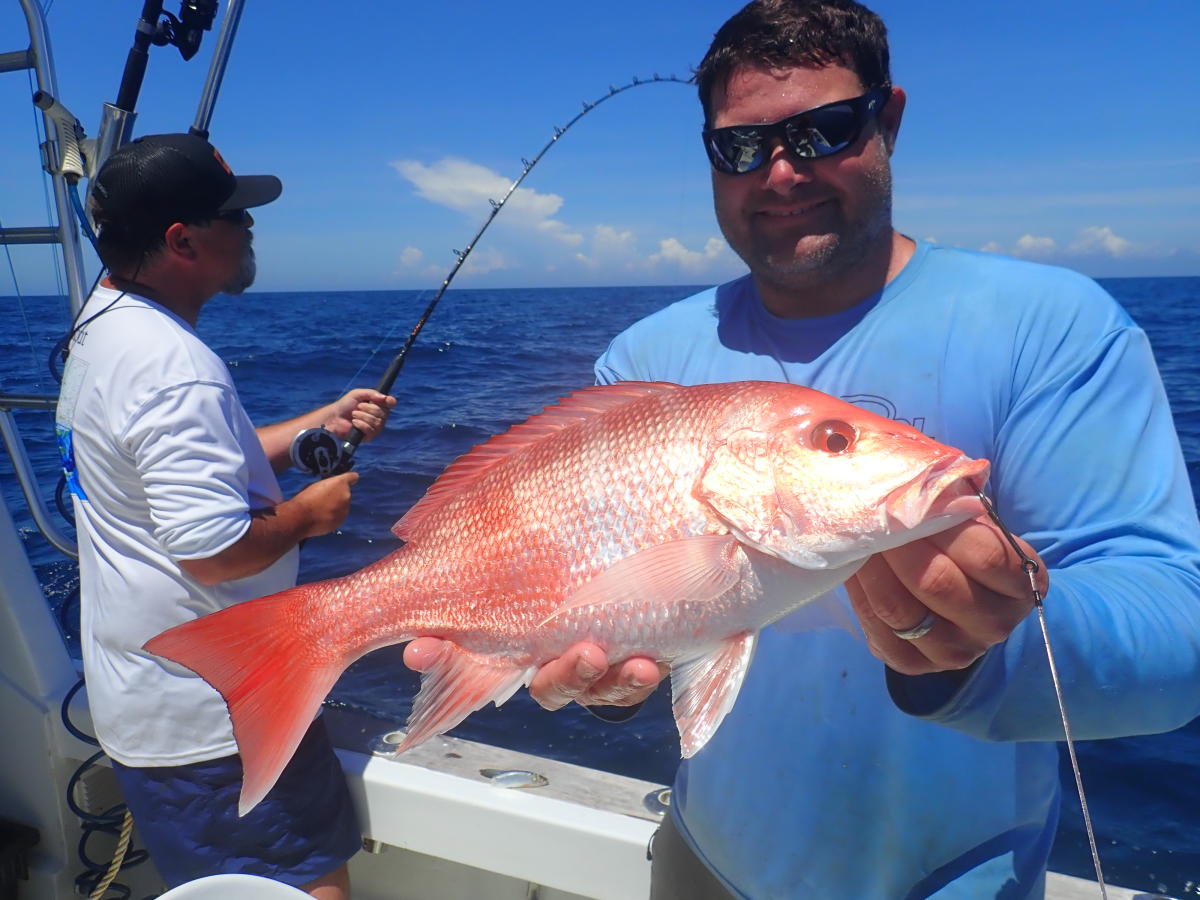 Red snapper are a much sought-after species along the Crystal Coast shipwrecks.
Offshore waters (10 to 80 miles off) along the Crystal Coast are riddled with shipwrecks, natural rockpiles and a steep dropoff at the edge of Continental Shelf, all of which provide structure and habitat for offshore species of fish. Pelagic species are sought after including mahimahi, wahoo, blue marlin, yellowfin tuna and king mackerel while nearshore species are just as pursued with passion including cobia, red snapper, amberjack, and grouper.

Dolphinfish aka mahimahi are flat out among the best tasting fish on the offshore grounds. There are plenty to be found along the Crystal Coast. Order a plate of one at your favorite Crystal Coast restaurants!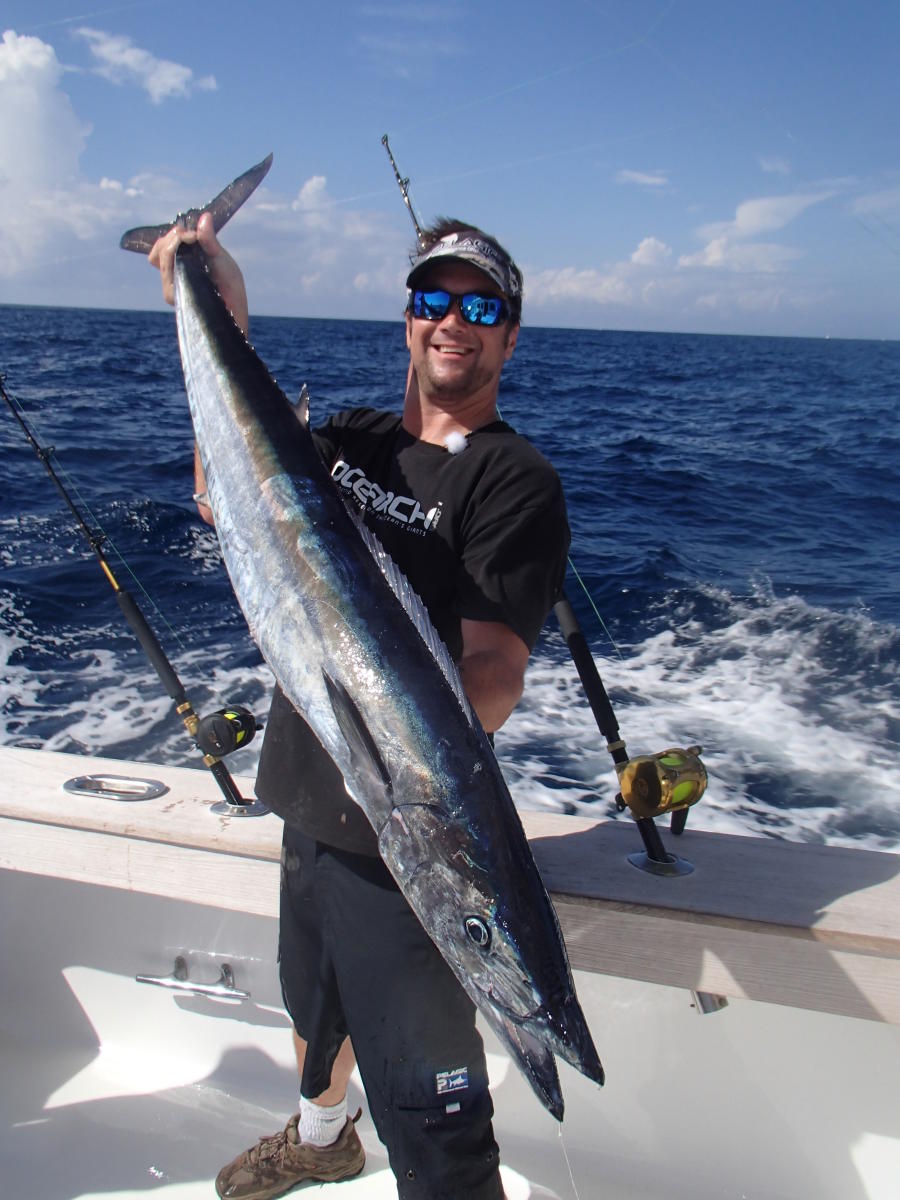 Wahoo are a prized species on the offshore grounds. You'll know why they call them WAHOO! When you hook up with one.
The more glamorous species of marlin, tuna, wahoo and mahi are targeted by trolling lures behind the boat to fool the fish into a strike. Marlin can push over the 1,000 pound mark where mahi, tuna and wahoo generally range anywhere from 10 to 70 pounds. Generally, the best fishing seasons for offshore pelagics is March to November. Sportfishing charters run out of most marinas along the Crystal Coast and can be found here: https://www.crystalcoastnc.org/things-to-do/fishing/
The annual Big Rock tournament in Morehead City in June specifically targets the glamour species such as billfish, tuna and mahi and draws hundreds of anglers and thousands of spectators to the town to join in on the excitement of weighing in the day's catch at the scales, all competing for a treasure chest purse that last year topped $5.8 Million dollars! The GOAT Michael Jordan, MJ himself, even fished the tournament last year. https://www.thebigrock.com/
Inshore Gems
Backwater bounty shines along the bayside of the Crystal Coast barrier islands. Tidal waters usher in forage bait such as mullet, blue claw crabs, shrimp and mud minnows which in turn provide plenty of food for the three main backwater target species - redfish, black drum, speckled seatrout, and southern flounder. Hopping a boat with Captain John Mauser of Tailing Tide Guides we poled us over the oyster bed encrusted shallow waters of Bear Creek behind Swansboro, way into the backcountry marshes, sometimes scraping the hull in 6 inches of water. Rigged with light tackle, we cast lures to the spartina grassbanks, when Wham! A 24-inch redfish exploded on the lure. Redfishing along the Crystal Coast is legendary. While redfish schools containing 3 to 15-pound specimens are aplenty along Shackleford Banks and the Emerald Isle backwaters, if you're looking for a personal best redfish, the Neuse River can hold trophy caliber reds pushing 40 pounds and more. Speckled seatrout are mainly found fishing the submerged grassflats where 1 to 3-pound trout are average with any fish over 8 pounds considered a true trophy. Flounder are oft overlooked in the backwaters and flatfish up to 5 pounds can be plucked off the bay bottom along channel edges, holes and mudflats that warm up from the sun's rays during the day. Red drum, black drum, speckled trout and flounder fishing in the back bays inshore is generally prime from June through October.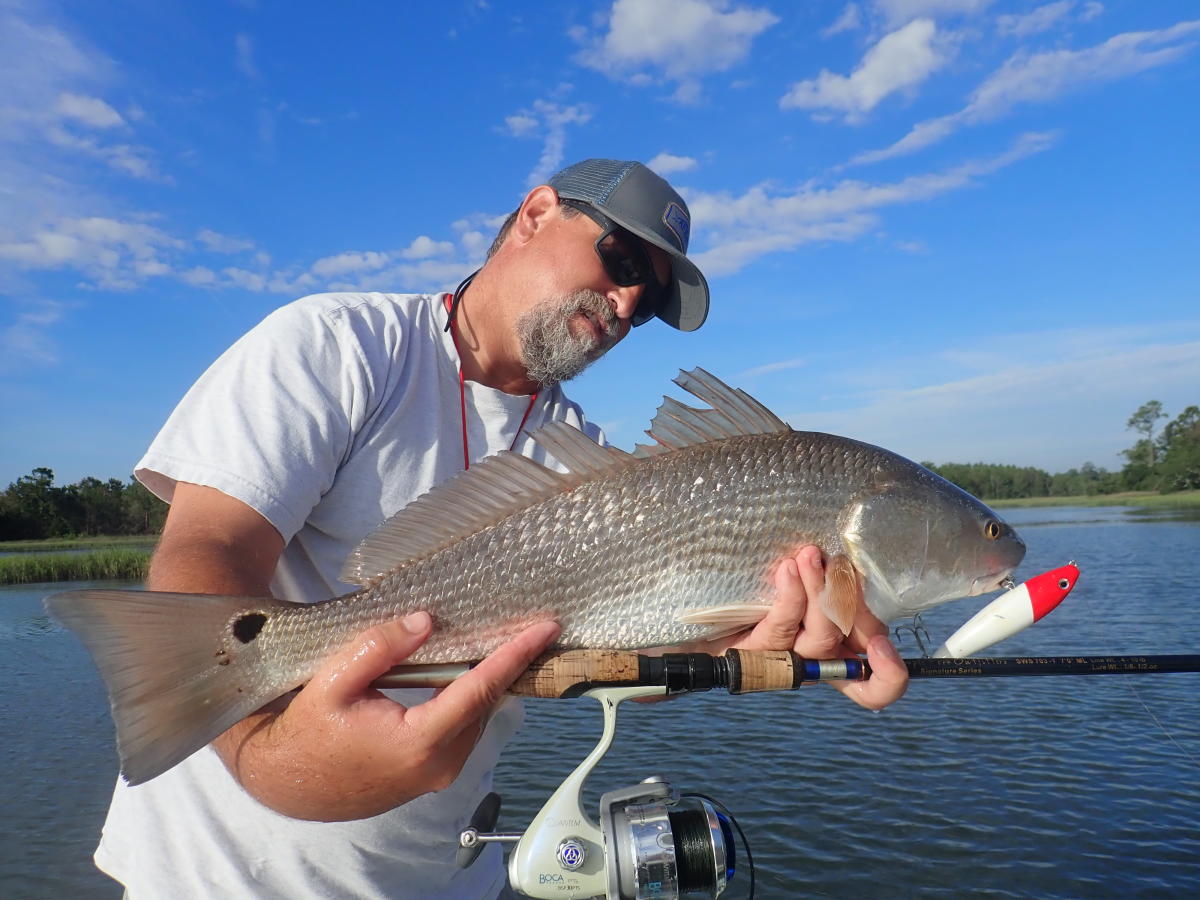 Redfish span the entire stretch of the Crystal Coastline. Its no wonder why many from around the world come to check the redfish off their fishing list here!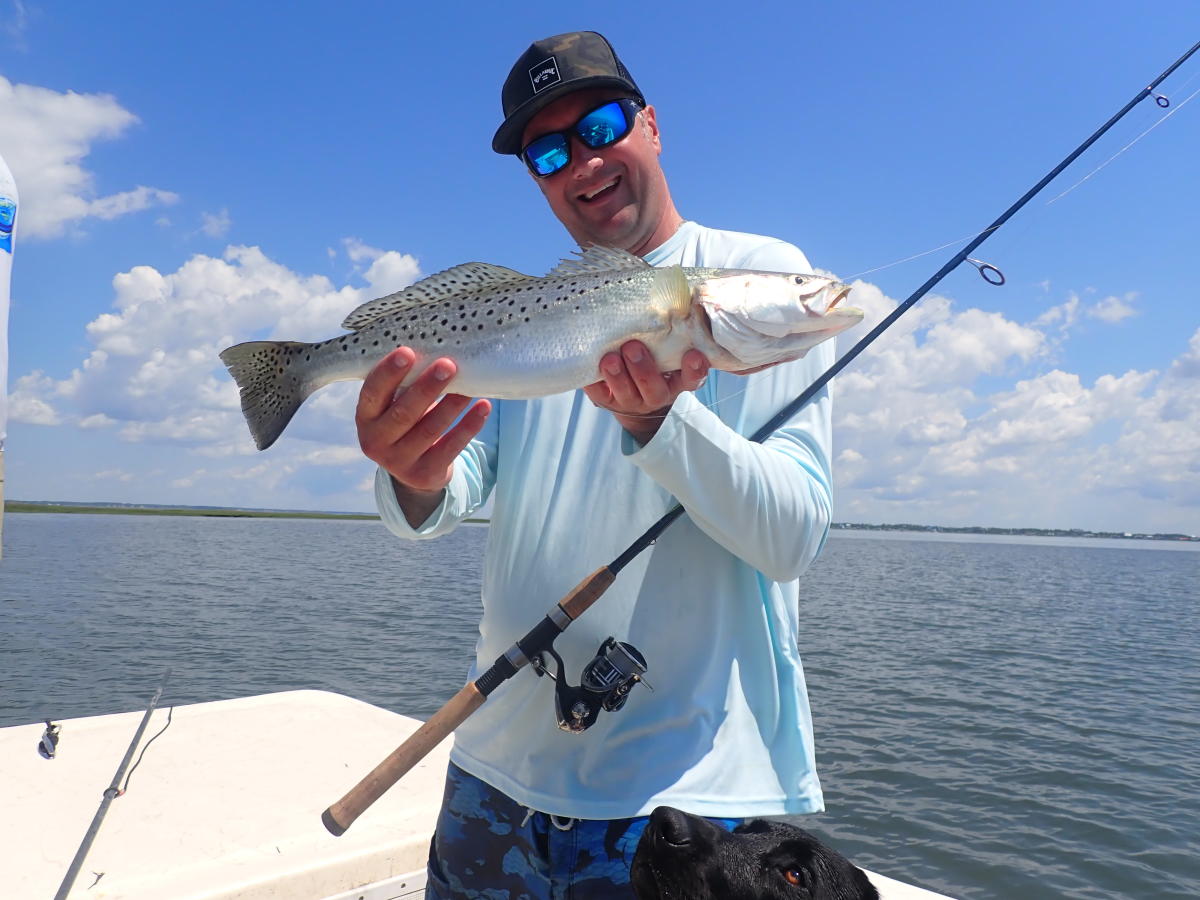 Speckled seatrout are the silent species and a true treasure to be caught in the Crystal Coast back bays.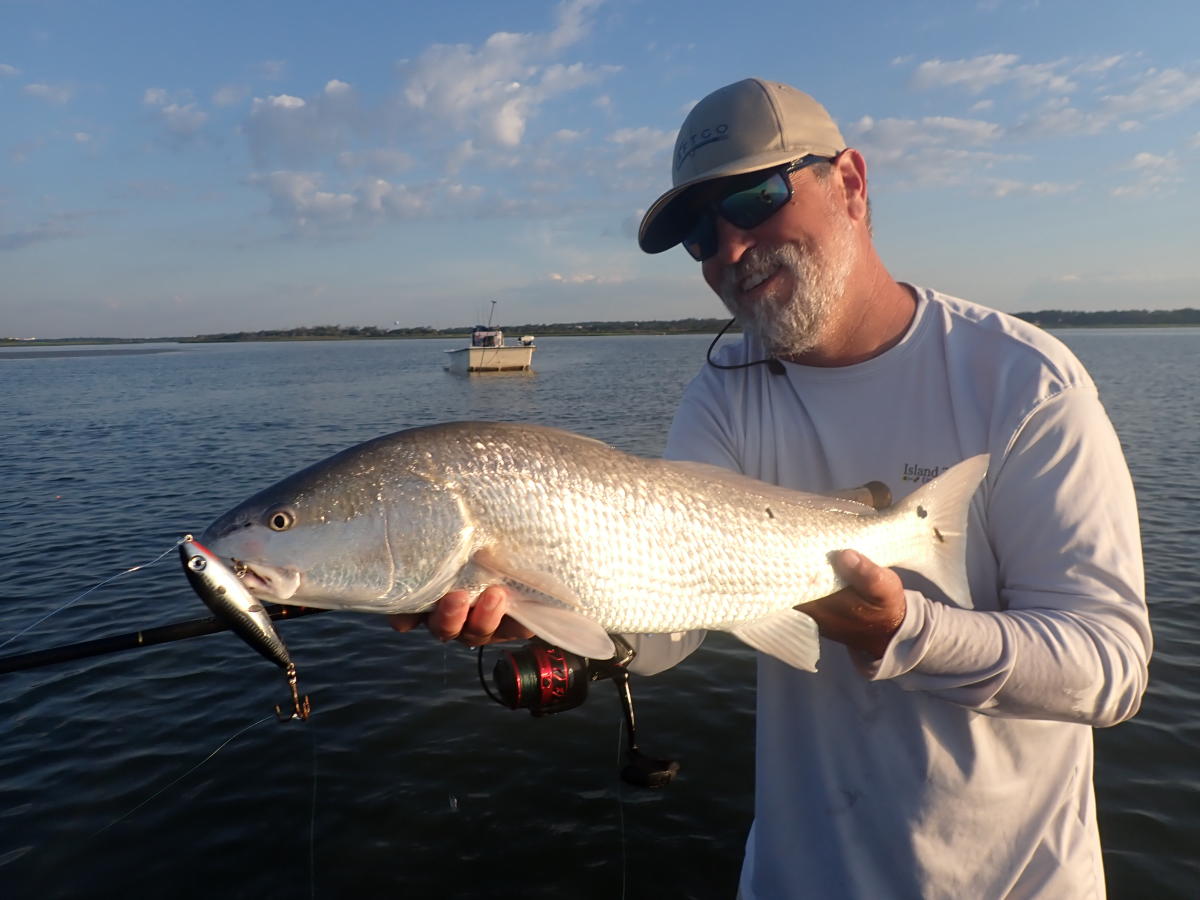 Red drum swarm the backwaters along Morehead City and can be caught on a variety of topwater poppers, rubber baits and plugs.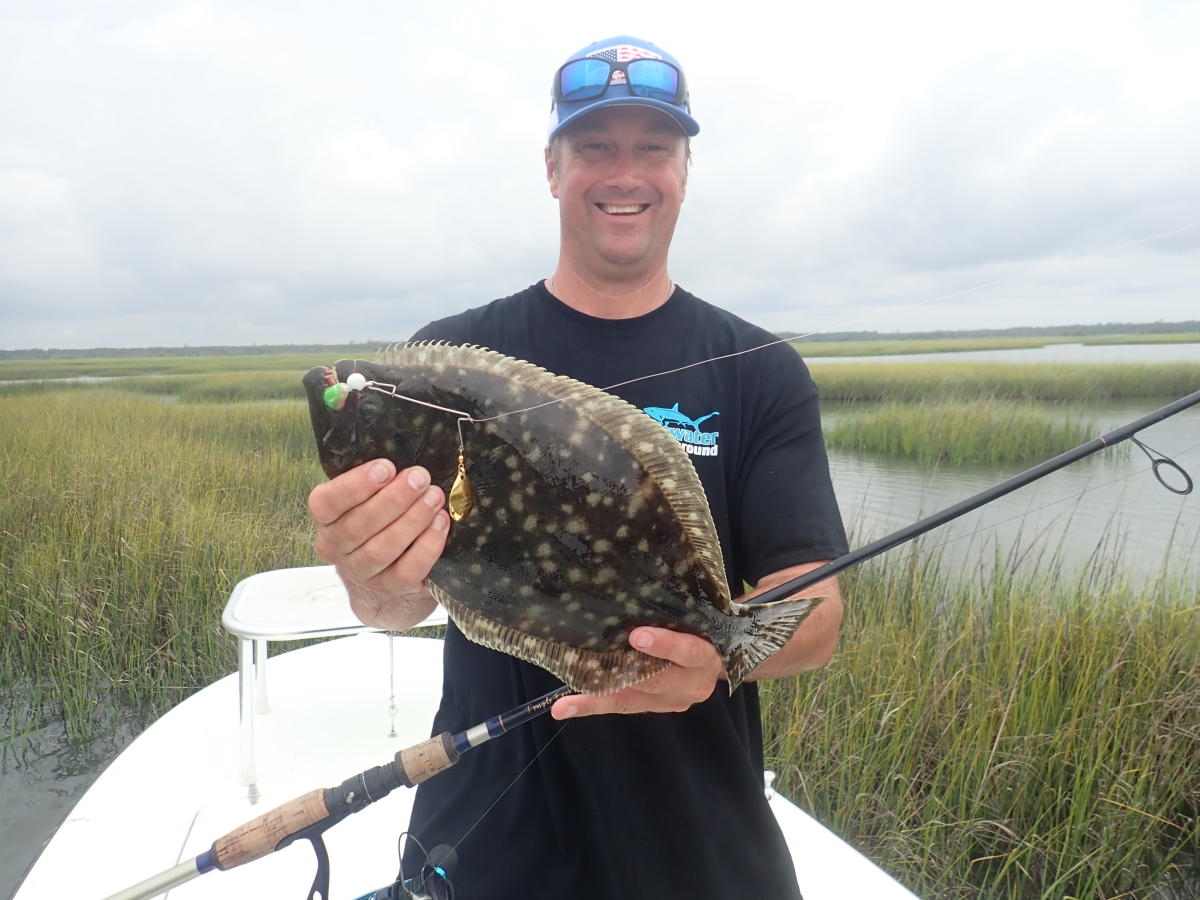 Flounder are an oft-overlooked (and tasty!) species in the backwaters.
Surf Fishing
No boat? No problem! The crashing waves of the Crystal Coast surf hold plenty of fishing activity for the landlocked surfcaster including a wide array of target species including pompano, sharks, bluefish, Spanish mackerel, whiting, stingrays, redfish and jacks. Depending on the target species, surf fishing usually consists of a long 8 to 12 foot fishing rod and reel baited with chunks of mullet, pogy, shrimp, clam or sand fleas and cast out into the breaking waves. Best times to surf fish are usually around high tide hours when there is deeper water for fish to access and feed within. Pier fishing is also an option, allowing anglers to reach even further out into the surf. Two piers line the Crystal Coast, the Bogue Inlet Pier and Oceanana Pier, where anglers can cast or drop down lines along the pilings to pull up their fare. I recall one June afternoon tossing shrimp baits into the Emerald Isle surf where I managed to catch a stringer of bluefish, Spanish mackerel, pompano and southern kingfish - a few of which went right into the frying pan! Best times to surf fish are between May and October.
Redfishing is legendary in the backwaters here and are guaranteed to put a smile on the face of any angler.
Over the past 15 years, I've explored and experienced the wide variety of sportfishing along the Crystal Coast - from offshore to inshore to surf fishing. The beauty of the Crystal Coast is that you never run out of options to chase down fish. On your next trip to the Crystal Coast, take a little walk on the wild side, drop a line in, and see what comes up.
For all sportfishing in NC, a saltwater license is required. Information can be found here: https://deq.nc.gov/about/divisions/marine-fisheries/licenses-permits-and-leases/recreational-fishing-licenses
Tackle Shop
Chasin' Tails, Atlantic Beach
Fishing Captains
Capt. Joe Tunstall, Carolina Traditions Guide Co.
Capt. John Mauser, Tailing Tide Guide Service
Capt. Rick Patterson, Cape Crusader Charters
Capt. Stewart Merritt, Salt Air Ventures