Last week, Stephen and I celebrated our four-year anniversary, and we decided to visit both the Emerald Isle and Beaufort, NC areas for a long weekend. Neither of us had been to either of these fabulous Crystal Coast towns before. They were so cute, and I would 100% go back to both! That's one of the many things I love about living in North Carolina. In just a few hours or less, we can be at the beach or in the mountains, making it easy to go on vacation without spending as much time or money traveling. In today's blog, I'll recap our trip and share my recommendations for anyone visiting these incredible towns of North Carolina's Crystal Coast.
Where to Stay
If you've never been to the Crystal Coast, it may take a moment to get your bearings because the area is made up of several towns that are approximately 30 minutes from each other. The Crystal Coast is North Carolina's Southern Outer Banks. This vast coastal region consists of Emerald Isle, Atlantic Beach, Morehead City, Beaufort, and more. If you're staying in one of these incredible Crystal Coast towns, you can quickly venture to another for a change of scenery or activity. Stephen and I stayed at a condo in Emerald Isle because we wanted to be close to the ocean. We also drove to Beaufort to walk around downtown and to have dinner on the waterfront.
This is the condo where we stayed. We absolutely loved it! This one is booked for a while, but no worries, Emerald Isle Realty has lots of other incredible options to choose from. It was a much better stay than a hotel. Having the extra space, a kitchen and a living room were perfect for the days we weren't exploring the area. Our rental also came with an exquisite outdoor pool and a hot tub which was fantastic! This was a great spot to relax, unwind and take in the gorgeous Crystal Coast views. If the waterfront is more your vibe, I recommend staying in Beaufort. You can always drive to nearby Emerald Isle or Atlantic Beach for the sun and surf.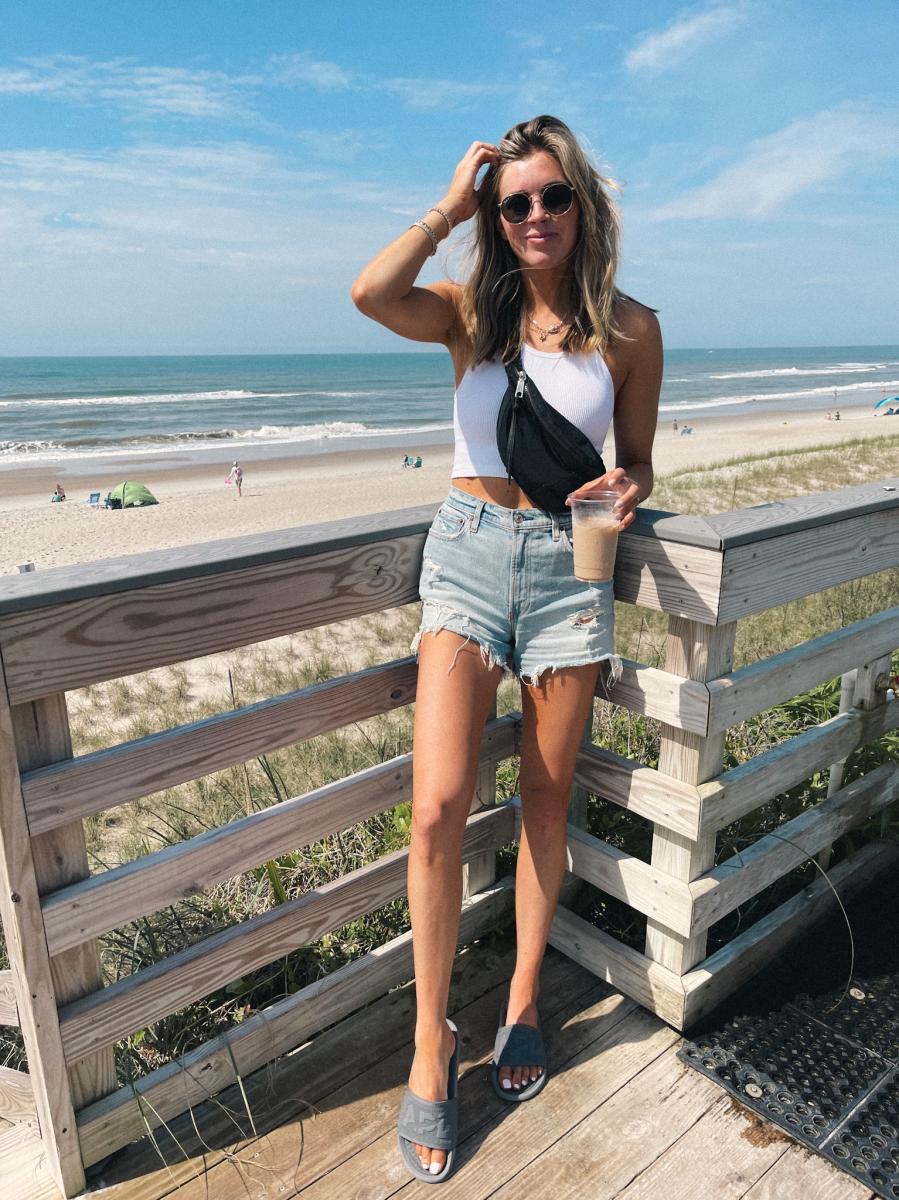 From our condo, we had easy access to the beach!
What To Do
We kept our first day pretty low-key. The weather wasn't ideal, but the nice thing about North Carolina is that even if the forecast says rain, you'll probably just have it for a few hours, and it will clear up. That's what happened Friday. It sprinkled in the morning, but by the afternoon, we were outside for a few hours of sun! We decided to drive to Beaufort, where we walked along the water and explored the local shops and restaurants. This area is great because you don't necessarily have to have a plan. You can just walk around, enjoy the views and pop into different shops at your leisure.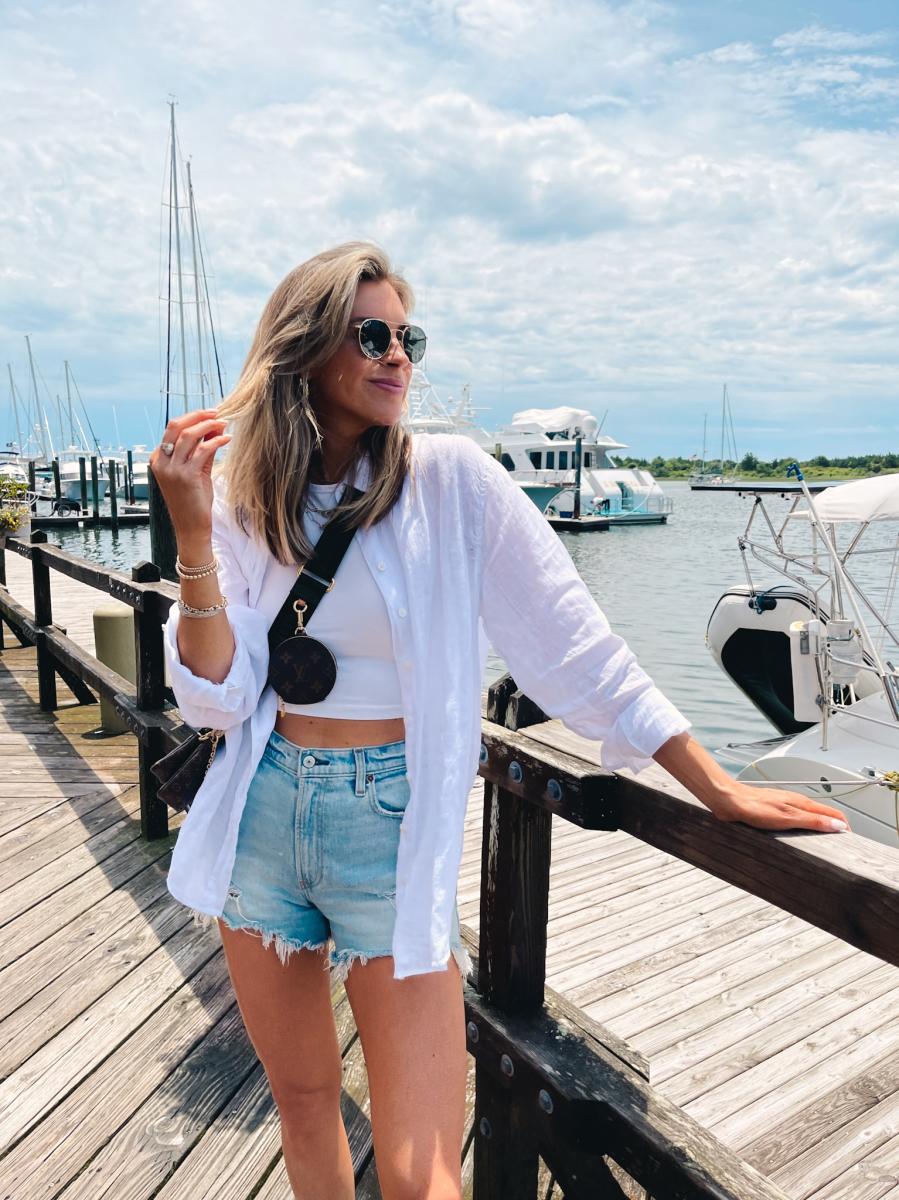 The Beaufort Waterfront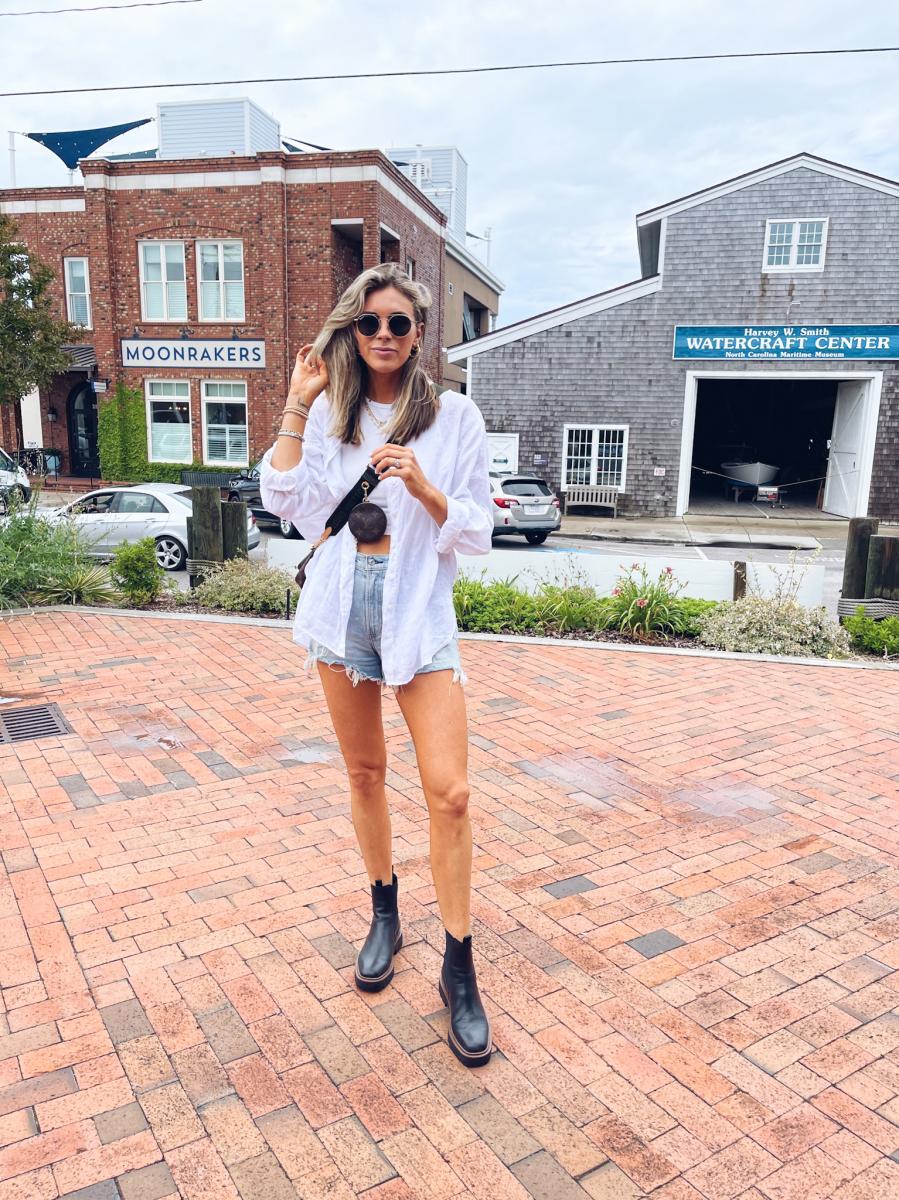 Downtown Beaufort

On the way to our anniversary dinner!
On Saturday, we set sail with Captain Mark, owner of H2O Captain Eco-Tour Private Boat Excursions! We launched from a dock in Atlantic Beach and went all the way to Beaufort via the waterfront that we had explored just the day before. Whether it's you and one other person, or a group, I highly recommend this experience! Captain Mark's crew can also set up a dining table, so you can enjoy your own food, drinks, and yes – wine! We didn't dock at any of the surrounding islands, but you can ask Captain Mark to cruise you to Shackleford Island, where you can spot wild horses and collect beautiful seashells. During our tour, we spotted the wild horses from our boat and a number of playful dolphins as well!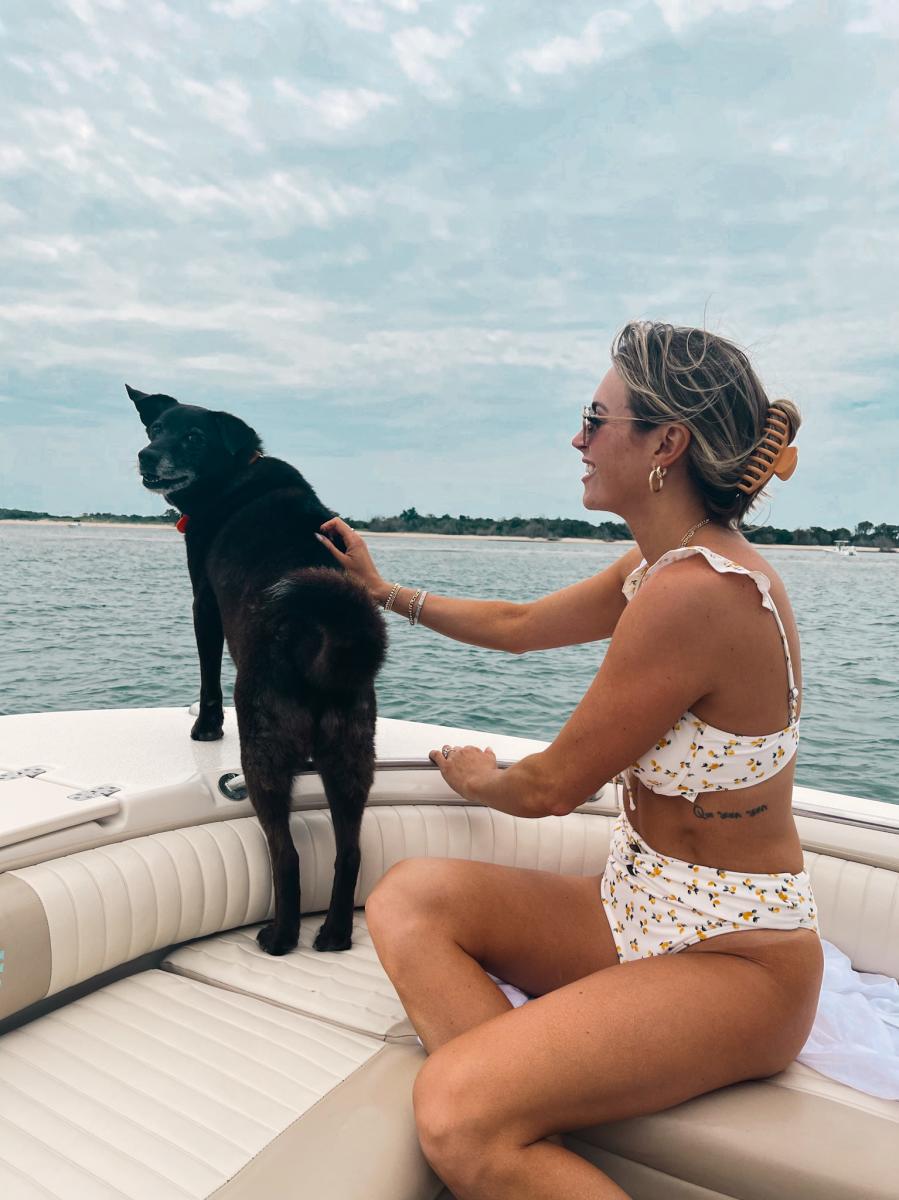 This handsome fellow is Lucky – Captain Mark's pup!
Things To Do
Here are some other exciting things to do if you are visiting Beaufort or Emerald Isle.
Cruising Tikis (Beaufort) - This looked so fun!
Biking Through Beaufort – With Hungry Town Tours you can bike through Beaufort while stopping to eat along the way.
Beaufort Ghost Walk – This spooky excursion is one of Beaufort's most famous tours and a must-do!
North Carolina Aquarium At Pine Knoll Shores – Spot thousands of incredible sea animals at this exciting North Carolina aquarium.
Fort Macon State Park – Go back in time with a fascinating tour through this historic war fort.
Where To Eat
The most important part of any trip – the food! Here, I'll list the spots we went to and add some other local recommendations.
Caribsea – Stephen and I both thought this was the best meal of our trip! We went for our anniversary. Definitely a pricier choice, but if you're looking for an elegant and delicious dinner, this would be my top pick.
Black Sheep – This stop was right on the water and had really good pizza!
Moonrakers – Another spot if you're looking for a more upscale dinner. We preferred Caribsea, but you can't beat their outdoor-dining view. They also have a rooftop bar that overlooks the water if you just want to grab drinks and appetizers.
Stir It Up – We hit this every morning in Emerald Isle. I recommend their Banana Foster Iced Coffee!
The Trading Post – We went here for breakfast one morning. It was eggcellent!
The General Store – If you're in Beaufort and want ice cream, definitely grab a cone from this local sensation!
Beaufort Grocery – My parents recommended this spot, but I wasn't able to make a reservation. Next time!
Front Street Grill at Still Water – If you're a fan of great painkillers and tuna tacos, this local grill will not disappoint!
Mill Whistle Brewing – If you're into home brewed craft beers, this is your stop.
The Village Market – This shop in Emerald Isle offers craft beer, wine and made-from-scratch sandwiches. It's a great option if you're going to the beach and want to pack a lunch.
Promise Land Market – Enjoy a wide selection of fine wines and craft beer. Brunch is served here as well!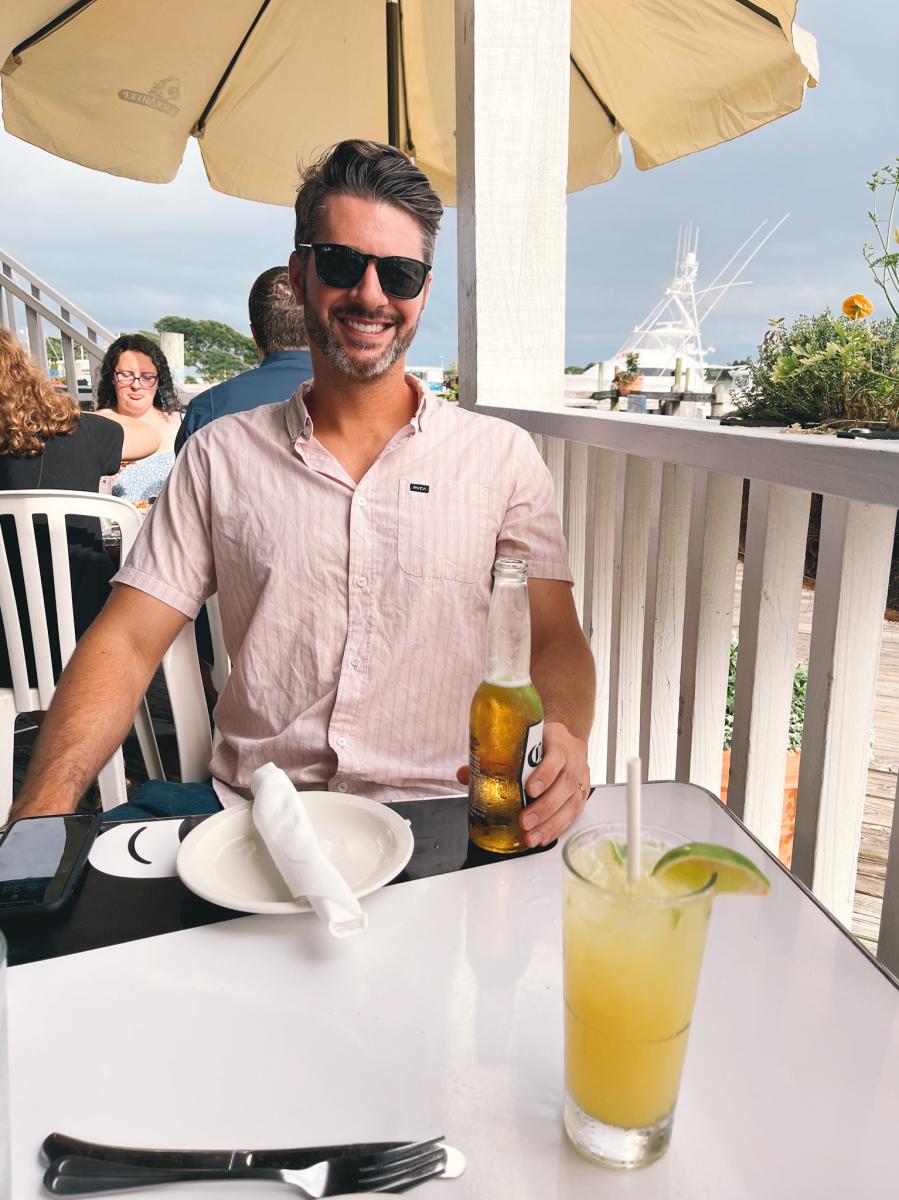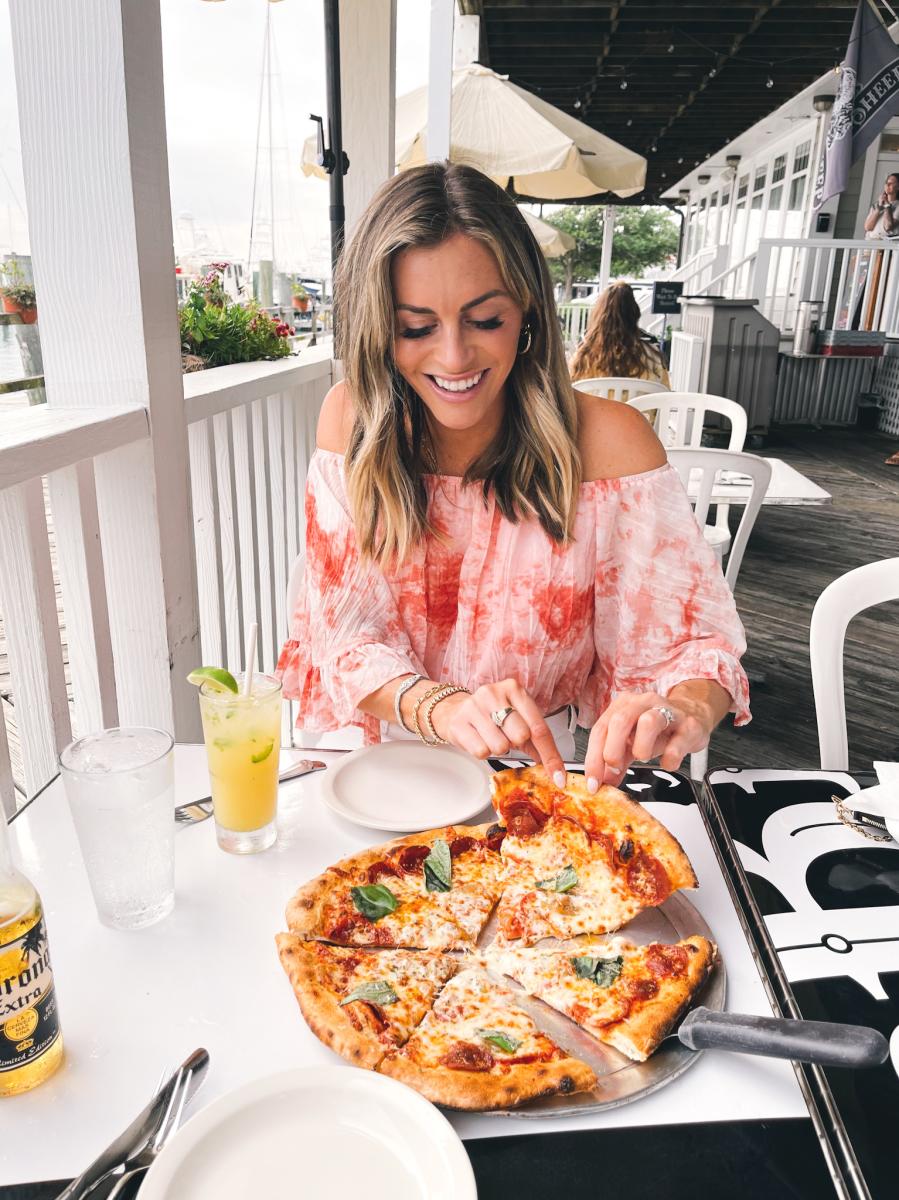 Black Sheep in Beaufort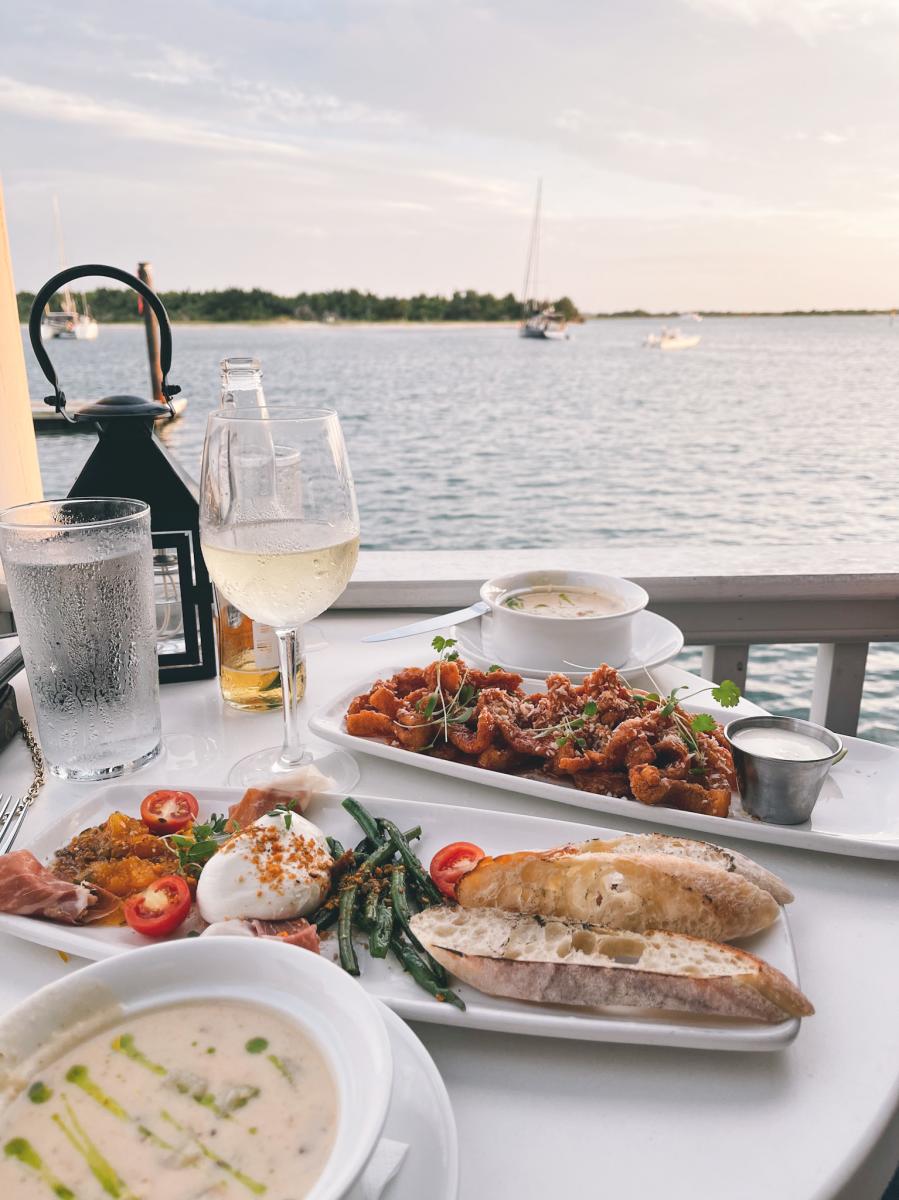 Delicious apps and out-of-this-world views at Moonrakers
Overall, I'd recommend these incredible areas for a weekend getaway. Thank you to The Crystal Coast for hosting our picture-perfect anniversary weekend.